Good Morning everyone! Ron Adams is our special guest today! Let's make him feel especially warm and welcome :)
Ron Adams is a detective fiction author and the creator of the Joe Banks PI series. He grew up in Randolph, MA but now calls Buffalo and Western New York home. He's married to the love his life, Trish and they have two fantastic kids. He's a huge fan of Robert B. Parker, Raymond Chandler, Harlan Coben, and Kathy Reichs. In his spare time he's an avid sports fan, frustrated guitarist, and loves muscle cars from the 60s and 70s.
His new novel, "Key Lime Squeeze," is the second book in the Joe Banks series. Mob Princess Angela Boothby wants her husband back and P.I. Banks heads to the Keys to find him. He learns people aren't just missing his charm.
Watch the video trailer here:
Ron has been especially kind to offer his time and some writing advice.
The Three P's of Writing
I have had an occasion recently to witness the turmoil of some writers and publishers when things don't go according to plan. It was a sad thing to watch, and I am grateful to have maintained good working relationships with all the parties involved. I offer, therefore, some assistance for the new, budding, aspiring, frustrated writer still working on getting their masterpiece into the hands of the readers. Please take it for what it is, and I hope these tips can be of some help. I call these the three P's of writing.
1. PROFESSIONAL – First and foremost, writing and writing well is an art form, one which most of us have invested our hearts and souls in. But publishing is a business. It is a for profit enterprise where the writer must learn to become the best business person they can be, and be willing to approach it in a professional manner. Life is not fair, and the business world is not fair, either. Approach every interaction with your agent and editors in a straightforward, respectful, and professional manner, and most of the time it will be returned in kind. Not always, mind you, but you will be better served in that approach in the long run.
2. POSITIVE- Remain as positive as possible in all your dealings with your agent, editor and publisher. Adopt a can-do/will-do attitude towards all interactions. Be willing to listen to those that may have more expertise, and offer what expertise you can bring in a positive, constructive manner.. A problem solver is easier to work with than a problem bringer.
3. PHILOSOPHICAL – A while back, a friend of mine got me and my wife involved in a network marketing business. Yeah, I know, but I did learn a valuable lesson. They have a philosophy of some-will-some-won't-so-what in regards to their business. Not the worst approach to take to this business. When going through the process of promotion and building your writing career, listen to those you believe in and trust, listen to the experts, and remember some things will work, some things won't. So what. Doing is better than not doing, trying is more productive than not trying.
Visit him on the web here:
www.ronaldwadams.blogspot.com
www.shadowsandnight.blogspot.com
www.ronaldwadams.com
www.myspace.com/rwadams
Purchsase the first in the series "Lake Effect" at
Barnes and Noble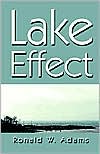 Thanks so much for being with us today, Ron!
Warmly,
Jenny:)